COVID is spiking all over and we all know why, but frankly I am losing my patience. We have had enough of it and yet it's surging happily along. It was reported this week that people who have the antibodies don't have them for long, so that means herd immunity can't happen. We will be living with this until we have a viable vaccine. I keep praying though and if you pray, it certainly can't hurt to keep praying about it.
Right Now:
My youth group meetings are officially on break for the summer. My church began in-person services again via a reservation system but we will continue to watch from home for awhile more.
This means that my day is pretty open. If it's not too hot, I may work on my patio a little bit because we have a nice backyard and patio but we never spend time on it. My daughter said she wants to hang out there so it needs to be put in order.
This Week:
My daughter has ballet and tap this week. Still via Zoom. She also has a monologue coaching. My campus is closed on Friday to observe Independence Day and that happens to be the day that Hamilton is streaming on Disney+! Then, Independence Day which is the day we celebrate my pup's birthday. She will be 10!
We will not be attending the city's firework's show. We will probably just grill and watch movies. It will be a loud night though. TONS of illegal fireworks in our neighborhood (usually).
Reading:
I finished The Dutch House and I really loved it. I found the story to be a little sad and bittersweet but so beautifully told. It's a dark fairy tale which might put some people off but it has all the themes you see in a fairy tale but told in a very modern way (the wicked stepmother, stepsisters, a home that is like a palace/castle, etc.) I hope to have my review up this week. I really would like to buy a copy to own as my version is a Kindle version from the library.
Currently, I am reading The Mother-In-Law by Sally Hepworth. One of my students lent it to me. I love that she enjoys the same twisty reads that I do. It's been fun to share our favorite page-turners with each other. A bit of a challenge to keep it a "clean" recommendation. Not too much language or other inappropriate behavior but we've read some good ones and this one is no exception.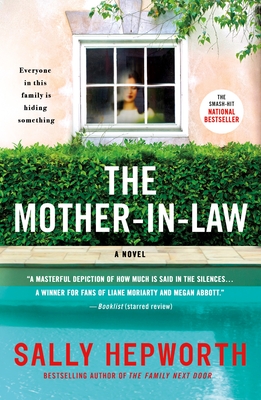 Watching:
We will probably finish up the Coben series we are watching on Netflix, The Woods. It's a Polish crime story and has subtitles but you don't notice them at all.
I  mentioned it above, but Hamilton will be watched this week for sure. Our tickets were cancelled and we are supposed to be going sometime in January. I have to check with my friend who rescheduled for us but will that even happen? Probably not if we keep going on the way we are going.
You guys, I finally bought a nice copy of JAWS, and my Blue-ray player died. Seriously!! That was supposed to be my July 4th movie. We may venture out to buy another one so I can have it in place by the weekend.
Grateful for:
My son bought me an air purifier for Mother's Day. Seems like an odd gift but I've been using it in the house and it's amazing for a device that is so small. It's made by Levoit.
My pup is finally healing after tearing up her feet during our San Luis Obispo weekend. Between the ratty boardwalks/piers and sand, she managed to shred her feet pretty good. We had to lay off of walks this week but her feet are finally healing. She was walking pretty crooked these past few days.
My son is doing well at his new job and liking the people and work a lot. This gives me peace of mind.
I think this pandemic is affecting us in a lot of different ways. I've seen a real drop in blog posts and comments. I think we are all just trying to do the best we can with what we've been given. The news is depressing. Waking up is hard when you are faced with the same routine day in and day out. Let's look out for each other. If you haven't heard from someone in awhile, reach out to them. I am going to spend my week touching base with people.
Hang in there.